This article is a collaboration between Newzoo and gamescom asia.
No matter how you look at it, Southeast Asia's games ecosystem is like no other in the world. Each of the region's major markets (Indonesia, Malaysia, Philippines, Singapore, Thailand, and Vietnam) is completely different from the next.
However, there is one through-line that intersects the whole region. Every major country/market in the region is mobile-first in terms of game preferences.
In fact, Southeast Asia generated game revenues of $4.4 billion in 2019, an impressive year-on-year growth of +16%. Mobile accounted for $3.1 billion of the 2019 revenues—or, just over 70% of the market.
In this article, we'll use data from our Consumer Insights and Newzoo Pro to delve into games landscape in Southeast Asia (SEA), zooming in on platforms, spending, and popular genres, franchises, and esports across the region. You can learn about our methodology here.
Most of Southeast Asia's Online Population Plays Games (Mostly on Mobile)
The vast majority (82%) of the Southeast Asia's urban online population are gamers. Mobile is—by a significant margin—the most played platform in the region. Nevertheless, console and PC are popular and are also played by the majority of the online population:
80% play games on mobile;
69% play games on PC;
57% play on console.
Narratives in the mainstream media might suggest that the share of gamers in this population is overwhelmingly male. This isn't the case. The chart below shows that the gender split is far more even—especially on mobile: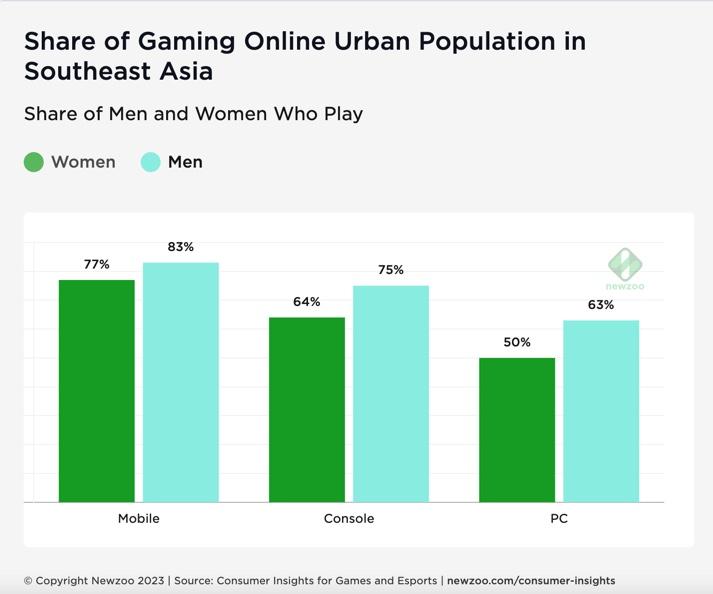 There are a number of reasons why mobile is not only the biggest gaming segment in Southeast Asia but also the fastest-growing:
(Mobile) Internet in SEA is more accessible than ever before;
Smartphone penetration is on the rise, thanks to the influx of more affordable and higher-spec devices;
More non-SEA-based publishers (like Tencent, Gravity, and Square Enix) are looking to leverage SEA's growth potential—especially within Asia.
Strategy is the Most Popular Genre in Southeast Asia, But It Differs Per Segment
Overall, Southeast Asia's most popular game genre is strategy. In fact, over a third of the urban online population plays the strategy genre. And it's popular across all three segments, mobile (36% play strategy), console (32%), and PC (29%).
Of course, mobile again leads the charge here, and this is reflected in the franchises Southeast Asia's gamers play most. In fact, a massive 44% of SEA's gamers played Mobile Legends: Bang Bang in the past six months, while 33% and 27% played Clash Royale and Plants vs. Zombies (on mobile), respectively.
The most popular franchises and genres on the other platforms, however, are completely different. Shooters are the top genre on the other two platforms, with over a third of SEA's gamers playing on console (36%) and PC (34%) alike.
SEA's top-played franchise on PC is League of Legends, while the most popular on console is FIFA. There are fewer titles available in the battle arena (MOBA) genre on mobile and the annualized sports genre on console.
The sheer number of shooter games in the console and PC top-20 game rankings pushes the genre to the top spot.
Southeast Asia's Online Population Plays, But Do They Spend?
Clearly, SEA's gamers are engaged with playing games, across all segments. But does this engagement transfer to spending? In short, yes. It is notoriously challenging to convert mobile players to mobile payers. As SEA is mobile-first, you may expect the share of paying gamers to be low.
However, more than half of SEA's online population spends money on games. Interestingly, men are more likely to spend on games than women (60% of men vs. 44% of women),
Most of these paying gamers (95%) spent on in-game items or virtual goods in the past six months, which makes sense given the market's engagement with free-to-play games. The most commonly bought item is in-game currencies—for both women (44%) and men (45%).
Viewing and Esports Are Also Prevalent Across Southeast Asia
Southeast Asia's online population is clearly engaged with gaming across all platforms, and this trickles into spending and the market's overall revenues. But what about their game-viewing habits?
Viewing is now an integral part of the global games market, and Southeast Asia is no different in this respect. In fact, well-over half of people in SEA's online population watched game-related video content in the past six months. The chart below shows their watching preferences: