KUALA LUMPUR, MALAYSIA, 19 DECEMBER 2022 – Axiata Group Berhad ("Axiata" or "the Group"), a leading regional mobile and digital conglomerate across ASEAN and South Asia, in partnership with Leet Technology Inc. ("Leet"), an eSports technology company that provides a platform for competitive gaming, is pleased to announce the end of Axiata Game Hero 2022 – Football Edition in conjunction with FIFA World Cup on December 18, 2022.
The top winner from Indonesia, sakti_as071 brought home prize money worth USD 8,000, followed by the 1st and 2nd runners up, dennisbk1 and philipfranc1 from Indonesia. Meanwhile, the 4th to 8th place were won by players from Cambodia and Bangladesh. The regional grand finale winners were awarded with a total prize pool of USD 19,000 out of the total tournament prize pool of USD 60,000.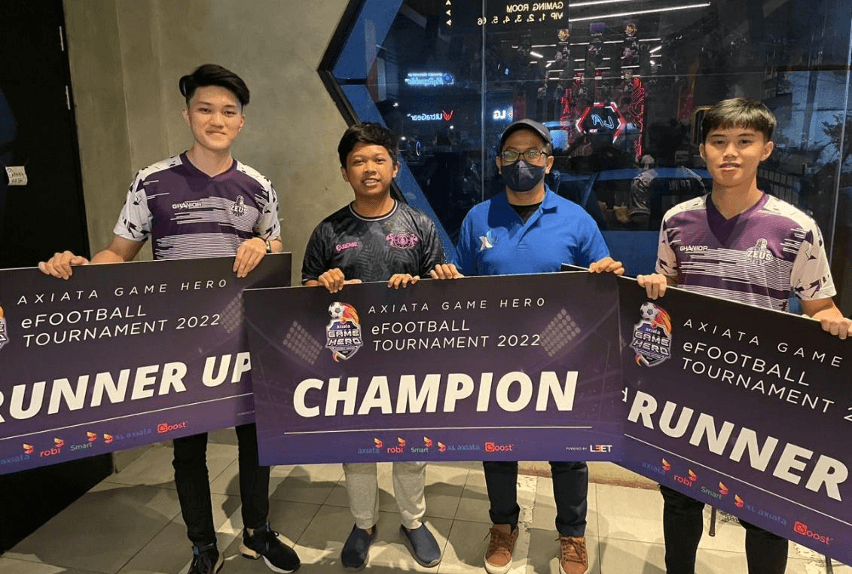 [1] All names of winners are their game IDs.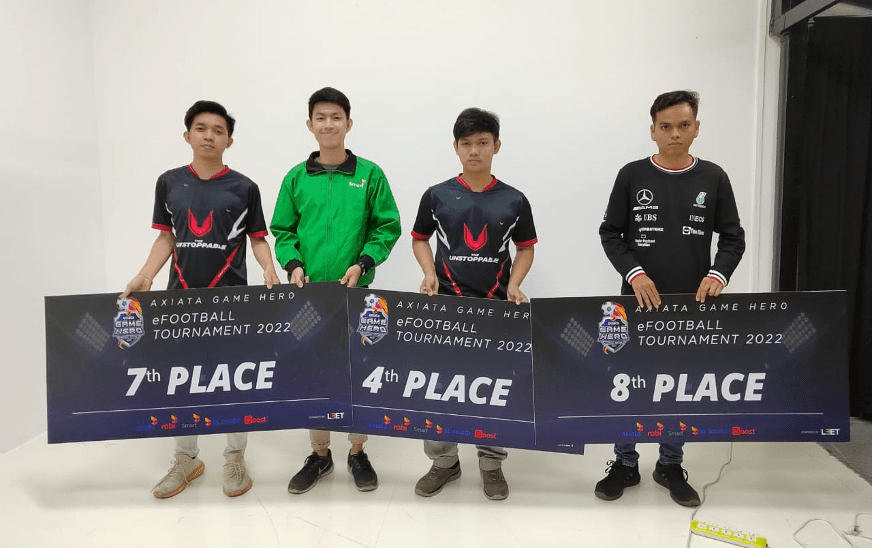 "Congratulations to the winners for their well-deserved efforts. Axiata Game Hero has always been a good platform for us to engage with our subscribers and this year, we unleashed yet another cohort of talented gamers onto the eSports scene. In conjunction with eFootball, we released limited edition football-themed NFTs in addition to exclusive World Cup 2022 merchandise to enrich the tournament experience and provide more perks to Axiata Game Hero players. We look forward to working with Leet again to bring more exciting tournaments across our footprint in ASEAN and South Asia." said Peggie Lim, Head of Product Innovation and Partnerships at Axiata.
Mr. Keith Long, CEO of Leet Technology Inc., commented: "We highly appreciate our partnership with Axiata for this year's Axiata Game Hero programme featuring eFootball, in conjunction with FIFA World Cup in Qatar. Through our platform, Maverick eSports, the gamers were able to enjoy football and represent their countries. We look forward to a continued relationship with Axiata in the coming year."

About Axiata Game Hero (AGH)
Axiata Game Hero is a tournament by Axiata Group for its 6 operating companies in Southeast Asia and South Asia. Axiata Game Hero 2022 offered an immersive football themed tournament in three parts:
eFootball tournament started on June 15, 2022, coinciding with the 2022 FIFA World Cup, and ended at the Regional Grand Finals on December 17, 2022. The tournament spanned across four countries, namely, Malaysia, Indonesia, Cambodia and Bangladesh with participation of subscribers of Boost Malaysia, XL Indonesia, Robi Bangladesh and Smart Cambodia. The tournament had four distinct levels for each country, with top players vying for a spot in the Elite Lounge, then the Country League Qualifiers, and finally the Regional Grand Finals, on a double elimination mode. The tournament offered a series of cash and merchandise prizes totaling USD60,000.
Football Arcade Challenge
Football Arcade Challenge featured hyper casual yet competitive mini games in 4 country tournaments that started on June 12, 2022 and ended on December 10, 2022. 6 games were played over six months, refreshed every two weeks. The top 30 players on each game leaderboard received cash and merchandise prizes totaling USD10,000.
Team Manager is a one-month fantasy football tournament based on 2022 FIFA World Cup fixtures where each player receives a $100 million virtual budget, picks the best formation and the best 11 players and four playing substitutes. Team Manager featured variable game boosters such as triple captain booster, bench-boost booster, free-hit booster and wildcard booster. The tournament offered a series of cash and merchandise prizes totaling USD10,000 including football club jerseys.
To keep up to date with all the latest news from Axiata Game Hero, please visit https://www.axiata.com/gamehero/ .
About Leet Technology Inc.
Leet Technology Inc. (OTCQB: LTES) is an esports technology company that provides a platform for competitive gaming (including arcade games) in the fast-growing Southeast Asian markets with a community and mass market focus through its flagship product Maverick and municipal end users. The Company's mission is delivering an end-to-end eSports & gaming ecosystem that enables registered users to play from anywhere at any time. It emphasizes catering to the general mass market over the niche professionals where the majority of market share and spending power is. Leet Technology Inc. leverages partnerships with ICT and OTT operators with cost efficient solutions that can enhance their bottom lines. Please visit the Company's product website at https://myleet.com/.
About Axiata
In pursuit of its vision to be The Next Generation Digital Champion by 2024, Axiata is a diversified telecommunications and digital conglomerate operating Digital Telcos, Digital Businesses and Infrastructure businesses across a footprint spanning ASEAN and South Asia.
The Group has controlling stakes in market-leading mobile and fixed operators in the region including 'Celcom' in Malaysia, 'XL' and 'Link Net' in Indonesia, 'Dialog' in Sri Lanka, 'Robi' in Bangladesh, 'Smart' in Cambodia and 'Ncell' in Nepal. Axiata's regional digital business verticals comprise "Boost" a fintech play, and 'ADA', a digital analytics and AI company. 'edotco' is among the top 10 independent TowerCos globally, operating in nine countries to deliver telecommunications infrastructure services.
As a committed and long-term investor, the Group actively supports and drives young talent development; community outreach; as well as climate change initiatives. Axiata's broader goal of Advancing Asia aims to piece together the best in the region in terms of innovation, connectivity and talent to drive digital inclusion and sustainable progress across our markets. Find out more at www.axiata.com
Issued By: Corporate Communications, Axiata Group Berhad  Axiata Corporate Headquarters, Axiata Tower, 9 Jalan Stesen Sentral 5, Kuala Lumpur Sentral. 50470 Kuala Lumpur Email:

[email protected]

 
For media enquiries, please contact: Chang Yan Yi Corporate Communications Tel: +6012-4218172 Email:

[email protected]
Cautionary Statement Regarding Forward-Looking Information:
This news release includes certain "forward-looking statements" under applicable U.S. securities legislation. Forward-looking statements are necessarily based upon a number of estimates and assumptions that, while considered reasonable, are subject to known and unknown risks, uncertainties, and other factors may cause the actual results and future events to differ materially from those expressed or implied by such forward-looking statements. Such factors include, but are not limited to: general business, economic, competitive, political and social uncertainties; delay or failure to receive board, shareholder or regulatory approvals, where applicable and the state of the capital markets. There can be no assurance that such statements will prove to be accurate, as actual results and future events could differ materially from those anticipated in such statements. Accordingly, readers should not place undue reliance on forward-looking statements. The Company disclaims any intention or obligation to update or revise any forward-looking statements, whether as a result of new information, future events or otherwise, except as required by law.
Investor Relations Contacts:
Leet Technology Inc.
Richa Gulhar, Senior Investor Relations Manager
Email: [email protected]